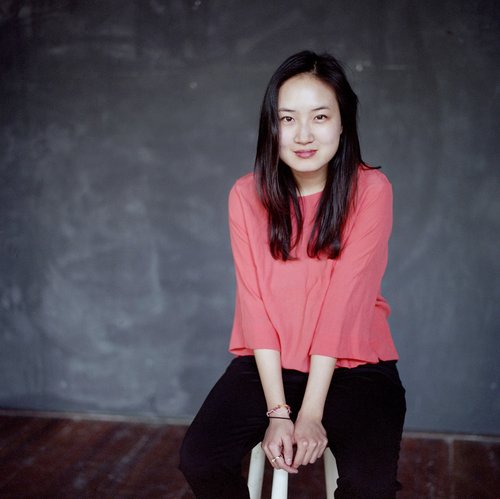 YOONHEE LEE
Violinist
One of the few honored with the exceptional marking of cum laude from Conservatorium van Amsterdam, Yoonhee Lee is a versatile violinist, whose interests in repertoire are diverse. It is this openness that defines her artistry.
Her curious and explorative nature is reflected in the variety of her engagements. She has worked extensively with soloist ensembles, such as Ensemble Musikfabrik, Asko|Schoenberg, and Atlas Ensemble. In 2015, she served as Associate Principal 1st Violin in the Royal Scottish National Orchestra. An ongoing production of Hamlet touring in Northern Europe – a critically acclaimed modern adaptation by director Espen Hjort – features Lee in music written for solo violin and electronics by long-time collaborator Seán ó Dálaigh. Very much interested in the intimacy of collaboration, she explores with contemporary dancer Anni Kaila the physical relationship between sound and movement in a short work-in-progress titled Nocturne. She has worked closely with composers Georg Friedrich Haas, Rebecca Saunders, Enno Poppe, Sir Harrison Birtwistle, Richard Barrett, Kaija Saariaho, Jörg Widmann, Beat Furrer, Cécile Marti, Nina Young, Simone Cardini, and Seán ó Dálaigh – and has premiered several of their compositions.
Lee has performed worldwide, at venues such as Berliner Philharmonie, WDR Funkhaus Wallrafplatz Köln, Muziekgebouw aan 't IJ, Concertgebouw, de Doelen, TivoliVredenburg, Concertgebouw Brugge, Royal Albert Hall, Glasgow Royal Concert Hall, Boston Symphony Hall, Jordan Hall, Carnegie Hall, St. Petersburg Philharmonia, Beijing Concert Hall, Shanghai Concert Hall, Teatro Gran Rex in Buenos Aires, and Teatro el Círculo de Rosario. Recent festival appearances include Spoleto Festival USA (2019), Huddersfield Contemporary Music Festival (2018), Musikfest Berlin (2017), Holland Festival (2017), Jonge Harten Festival (2016), Musica nova Helsinki (2015), Klangspuren Schwaz Austria (2015), and Yellow Barn (2015).
Her mentors include the late Masuko Ushioda, Vera Beths, and Anner Bijlsma.
Lee plays on a 2015 Andrew Ryan.
New England Conservatory (B.M. 2011, M.M. 2013), Conservatorium van Amsterdam (M.M. 2015 cum laude); Frank Huntington Beebe Fund for Study Abroad (2013-14)
STEVE LARAIA
Violist
Described by the Boston Musical Intelligencer as a violist who "brings personality to his viola's distinctive deep, warm voice," Steven O. Laraia served as Principal Violist of the Sarasota Orchestra for the 2015-2019 seasons and joins the Boston Symphony starting in the Fall of 2019.
Laraia recieved his Bachelors & Masters of Music from the New England Conservatory and was the recipient of the 2012-2014 Abraham Skernick Memorial Presidential Scholarship. During his time at NEC, Steven won the 2012 NEC Concerto Competition, 1st Prize in the 2014 Hellam Competition, 2nd Prize in the 2012 MUSICCAS International Young Artists Competition, the 2014 Borromeo Guest Artist Award and was a 3rd place laureate in the 11th Annual Sphinx Competition. Steven has played concerts with groups such as Sejong Soloists, A Far Cry, the Sphinx Virtuosi and the Boston Philharmonic. Laraia has participated in festivals such as the Yellow Barn Music festival, The Lake Champlain Music Festival and Ravinia Steans Music Institute. Steven has played concerts in the US, Germany, United Kingdom, Spain, the Czech Republic and Cuba. Laraia's former teachers include Kim Kashkashian Dimitri Murrath, Cathy Basrak, Byrnina Socolofsky, and Che-Hung Chen. Steven is currently faculty at Florida Southern College.
HAN CHEN
Pianist
Hailed by the New York Times as a pianist with "a graceful touch... rhythmic precision... hypnotic charm" (2012) and "sure, subtle touch," (2014) Han Chen is a distinctive artist whose credentials at a young age already include important prizes in competitions of traditional music as well as increasing respect in the avant-garde.
Mr. Chen's debut CD with Naxos Records, which consists of all-Liszt operatic transcriptions, was released in January 2016 as the first prize winner of the 6th China International Piano Competition. Gramophone complimented Mr. Chen's "brilliant performance" in the CD as "impressively commanding and authoritative." The website Classics Today also praised for his "assured, elegant and totally effortless technique" by scoring 10 out of 10 in both artistic quality and sound quality. International Piano magazine (UK) described Mr. Chen's performance in the competition as "[Chen] displayed extraordinary strength, talent and flair." In addition to the recent champion, he was the winner of the International Russian Music Piano Competition, the Hong Kong International Piano Competition, the Jinqiao National Piano competition in China, among others. Mr. Chen was also awarded the Mieczyslaw Munz Piano Scholarship and 26th Chimei Art Prize Piano Category.
As a soloist, Mr. Chen has appeared with many orchestras, including Hong Kong Philharmonic Orchestra (under Maestro Vladimir Ashkenazy), the Aspen Music Festival Brass Ensemble, the China Symphony Orchestra, Macao Orchestra, Juilliard Orchestra, Lexington Philharmonic Orchestra, Sendai Philharmonic Orchestra, Shanghai Conservatory Middle School Orchestra, National Taiwan Symphony Orchestra, and Xiamen National Orchestra.
Being an enthusiastic advocate for modern music, Mr. Chen actively performs both 20th-century classics and works by emerging composers. His close collaboration with the Juilliard modern music ensemble AXIOM led him to the performance of music by composers such as Pierre Boulez, Toshio Hosokawa, Gyorgy Kurtag, Magnus Lindberg, Steve Reich, Charles Wuorinen. He was appointed as one of the soloists in John Adam's Pianola Music in the 2012-2013 season, the soloist in the John Cage's Concerto for Prepared Piano in the 2014-2015 season, and now on the roster of the New York-based contemporary music group Ensemble Échappé.
As a recitalist, Mr. Chen programs music with highly creative themes and strong belief in promoting living composers. In the summer of 2016, he created an all-transcription program to honor the great technical aspect of the piano as a musical instrument. He celebrated John Cage's centennial birthday in 2012 by performing his complete Sonatas and Interludes. His all-New-York-based composer program in the new music performance venue, Spectrum, was on the critic's pick of Time Out New York magazine and the website I Care If You Listen. In the summer of 2014, he attended the Lucern Festival Academy founded by Pierre Boulez, and worked with conductors such as Simon Rattle, Matthias Pintscher and Heinz Holliger. At the same time, he himself is also an avid composer, studying with professor Philip Lasser. His works have been performed in National Taiwan Symphony Orchestra Concert Hall, Taiwan Classical Music Society, Paul Hall in Juilliard, Klaiverhaus / Unity Church, Greenwich House Music School, Aspen Chapel, Altered Stages 2, The Dolphin Cafe, to name a few.
Native of Taichung, Taiwan, Mr. Chen attended the Taichung Municipal Guang Fu Elementary School and later on the Shanghai Conservatory Elementary & Middle School. His teachers included Meng-hua Wu, Tsuifong Hung, Siyi Wu, Christopher Zhong and Kuan-wen Wang. After his study in Shanghai, he moved to New York and received his accelerated Bachelor's and Master's Degree of Music at The Juilliard School with professor Yoheved Kaplinsky under the C/Kaplan Piano Scholarship, Susan W. Rose Piano Fellowship and Van Cliburn Alumni Scholarship. He has also worked with Thomas Ades, Jonathan Biss, Misha Dichter, Leon Fleisher, Richard Goode, Gilbert Kalish, Robert Levin, Jerome Lowenthal, Robert McDonald, Claudio Martínez-Mehner, Peter Oundjian and Arie Vardi in masterclasses. He is now studying with Ms. Wha Kyung Byun in the New England Conservatory.
For more information: hanchenpiano.com
Zizai Ning
Cellist
Zizai Ning was born in Shanghai, China, and began playing cello at age 6. In 2002, she was offered a full scholarship to attend the Shanghai middle school, an affiliation of the Shanghai Conservatory, where she studied with Professor Meijuan Liu, a renowned cello educator in China. Soon after, she was awarded top honors in China's National Cello Competition. In 2007, Ms. Ning received a full scholarship, including a Conservatory Dean's Talent Scholarship, to study cello, as well as viola da gamba and baroque cello, at Oberlin College with Catharina Meints.

Ms. Ning earned her Performer's Diploma at Indiana University Jacobs school of Music under the tutelage of Professor Eric Kim and Brandon Vamos. In various master classes, Ms. Ning has performed in various master classes for artists including Steven Isserlis, Marcy Rosen, Desmond Hoebig, Yo-Yo Ma, and Noah Bendix-Balgley. She currently studies at the Curtis Institute of Music.